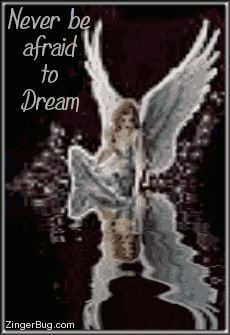 Dreams
Why do we dream?  We dream to help get rid of all that was stored in our brain that day, so we can store more of the next days information once again.
Our dreams also give us messages from our loved ones and friends who have passed.  We also recieve meaningful messages from our Lord, Goddess, our Guides, Angels, Archangel and other higer spiritual beings..  They also help guide us in our dreams, ast to learning our gifts and test us in our dreams to help us grow in our gifts that we were given to share and help others in need.  They also guide us in our dreams of our life and spiritual growth.
Some of you may remember your dreams when you awake.  Others may not remember if they did dream or had a dream.  We do all dream.  Some of you when you awake know that you did dream, but can't remember until you have something trigger your brain durng the day, like a song, or someone saying somethng specific or seeing something and before you know it you start to remember your dtream.   If you have trouble , before you got to bed pray to the Lord, your Goddess, yourGuradian Angels, and your Guides or who ever your faith is in, as them to help your remember your dreams when you awake in the morning.
This is why it is also important to have a Dream Journal, so that you can write you dreams down. This helps you not only to remember your dreams that you  had, but when you look back at your dreams you will notice if you had this same dream before, or something similar to it.  Is there a pattern or is it a sequence to another dream.  Think about what the dream means, what it or they are telling you.  Is this a lesson, a test, a message or are they guididng you to something.
Angel Dream Poem
When you allow angels to be part of your life, miracles truly happen.
A loving angel came to me in dreams.
She showed me life's not always what it seems,
And brought me to a place where sweet dreams live.
She gave to me a gift that I now give,
A Dreamer's Dream.
She whispered, "Take my hand and I will lead you through A place where only sweet dreams can come true.
Close your eyes and open up your heart,
For then this flight of dreams so sweet can start.
Dream, Dreamer, Dream.
"She brought me through the darkness to the Light,
Where colors wrapped around me, such delight.
A patchwork quilt of beauty without seams,
Each color was a rainbow full of dreams.
Dreamer's Dreams.
She led me through a hallway of pure sound,
With doors flung open widely all around.
And from each room a song would gently play.
I wished with all my heart that I could stay,
In this Dreamer's Dream.
But we drifted in the fragrance of the breeze,
To savor all the flowers and the trees.
We tasted all of life that we could see,
And felt it flow as one in harmony.....
We Dreamed this Dreamer's Dream.
Then my angel turned her eyes to me and said,
You're the Keeper of these Dreams inside your head.
Find sweet Dreamers, who would Dream of Love and Light,
These Dreams will lead them safely through the night.
Help these Dreamers Dream.
And so I am the Keeper of this Dream, it's true,
But I offer all my Dreams to each of you.
May their loving sweetness visit you each night
And fill your soul with Love and Warmth and Light.
Dream, Dreamers, Dream!
~Author Unknown~
Below are a few links for Dream Interpetations.
What do you dream?
Tell us your dreams!
Click on picture to enter the Dream Board
Have fun and choose the link that you like.
http://www.dreammoods.com/dreamdictionary/a.htm 
http://www.soulfuture.com/dream_dictionary/dream_dictionary_index_a.asp
http://www.mydreamvisions.com/dreamdictionary/singlealpha.php?Letter=a
©LilKat10a 2007 - Nov. 22, 2007
All Rights Reserved  
This webset page was assembled on Saturday January 17, 2009 by
LilKat
with graphics from
CCG Archives
using one of the many auto-scripters available at 
Chat_Central_Gateway
All rights reserved ©KENDOC 2005-7